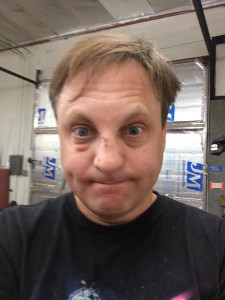 So, everything described in this comic is 100% true. On Monday night, I was trying to find something that I accidentally threw away, and the trash can scooted out from under me and I did a header into the kitchen floor.
For Tuesday and Wednesday, I was too dizzy to do much of anything, but on a happier note, Erik Przytulski and I are just a couple of weeks away from the premiere of out original musical, Alien vs. Musical, part go the 2015 Hollywood Fringe Festival.
In addition to co-writing it with Erik, I'm building several huge Alien puppets for the show You can track my progress on my Instagram feed and if you;re in the Hollywood, CA area in June, please check out the show! Use discount code STEELDUCK15 to save $3 on each ticket (except the June 6 preview). The show is PG-13, but funny and promises to be quite the spectacular!
Anyway, time to ice my nose!