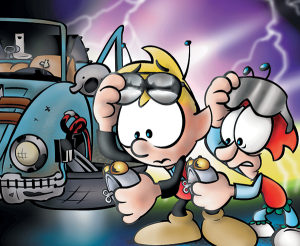 So, by now you may have realized that Old Ralph's appearance on April 1st was not an April Fool's Day joke. He actually is the only tie to the original 2,100+ strip run of the original continuity.
While it's not necessary for new readers to real all of those old strips, if you're interested, all of the old adventures are collected in the Old School Melonpool and Ultimate Melonpool books available through the store. Also, the Old School volumes are all available on Kindle as well.
Also, I'm thinking seriously of starting a Patreon site and have these old strips as one of the perks. Is that something you'd be interested in? Leave a comment below!