So, I didn't a new costume for myself this year, but I did make three costumes for friends of mine. Will post as I get updates.
Here's the first photo: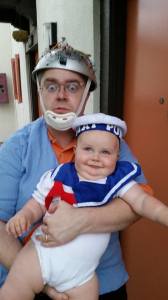 Chris Gleason (long-time friend and puppeteer/voice of Sammy the Hammy) and his wife Linda (FortyTwo on the message boards)'s son Linus sports a Stay Puft Marschmallow Man costume that I made for him, using the Sammy the Hammy puppet as a dressmaker's dummy. Chris is wearing my old Keymaster costume from a few years back. Super fun! I'll pst the other two costumes I built this year as soon as I get copies!